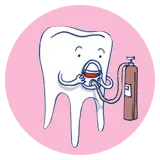 As with everything we do, we strive to make sure the patient has a pain free, comfortable experience when undergoing treatment. This is not to say that surgery does not have complications, that is the nature of the beast, but we have developed over the many years, techniques and products unique to The Dental Connection that help to ensure your visit with us is as pleasant as possible.
To make our surgical procedures as predictable and painless as possible this is achieved by:
utilizing gentle local anesthetic techniques and sedation as required
using the current state of the art products and techniques
our unique and caring post-operative care system
having over 30 years of experience and research
the capable team of highly qualified specialists which allows us to attempt complicated cases with the minimum of side effects and patient satisfying success.